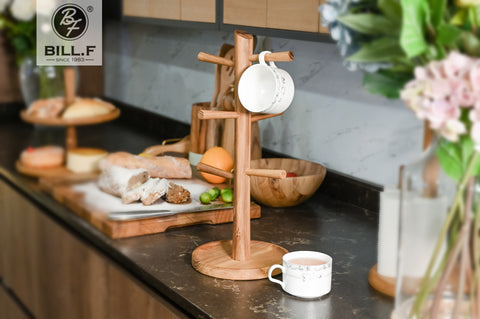 Whether your morning beverage of choice is black coffee, cappuccino, or a smooth latte, your favorite mugs should never be hard to find.
BILL.F decorative mug rack is a simple storage solution to display your collection of favorite mugs while offering the contemporary flair you love, this minimalistic mug stand has all the characteristics to enhance your kitchen.
Feature
Stylish & Well designed and teak wood, it is ideal for keeping your favorite mugs within your reach for making tea or coffee for your guests.
Cleaning the mug rack holder is convenient. Simply wipe clean with a damp cloth and dry thoroughly.
Measuring 14.9 x 6.7 Inches, not only can easily hold six large capacity mugs but also can hang jewelry and will sit comfortably & conveniently on your work surface.
Specifications
Made of natural teak wood and stable cup holder
Measures: 14.9" x 6.7"
Holds up to 6 mugs on its sturdy teak branches
Includes 4 non-slip balls at the base, so this rack will not easily tip over.
Middle branches in different directions maximize space for large mugs or cups
It is Easy For You to Air-Dry Your Cups and Bottles after Washing
Package Included:
1 x Mug Holder Tree (Cups Are Not Included)
Pretty and convenient cup organizer!
I have many kinds of cup with different sizes. Generally, I put them in the shelf of kitchen but I need to open shelf to get them every time I need to use cups. After I receive this organizer, I can put my cups wherever I want and I do need to worry they will take up space. I can put my different size of cups on it at same time. Moreover, I love its design so much!
Sturdy and easy to assemble super cute addition to any kitchen look
Great Product just needs to be a bit taller
Really easy to assemble and completed in under 3 min. When hanging the coffee cups the levels of hangers need to be taller to allow no impact. The bottom coffee cups rest on the stand which confirms the vertical riser needs to be taller. Otherwise great product and sturdy!
good
It's easy to use, that is, my cups are large and small, a bit squeezed, easy to install, and the chassis weighs enough, not to fall, and it is generally good. I like it!
Solid and nice looking
Takes up little space. I have 5 special Irish Scottish mugs