Cutting Board
Elegant Serving Board
Acacia wood is a tropic hardwood known for its durability, water resistance.Each unique piece is enhanced by its distinctive wood grain patterns.Ideal for serving & displaying appetizer food such as cheese, meat, veggies, dips, greenery, crackers, etc.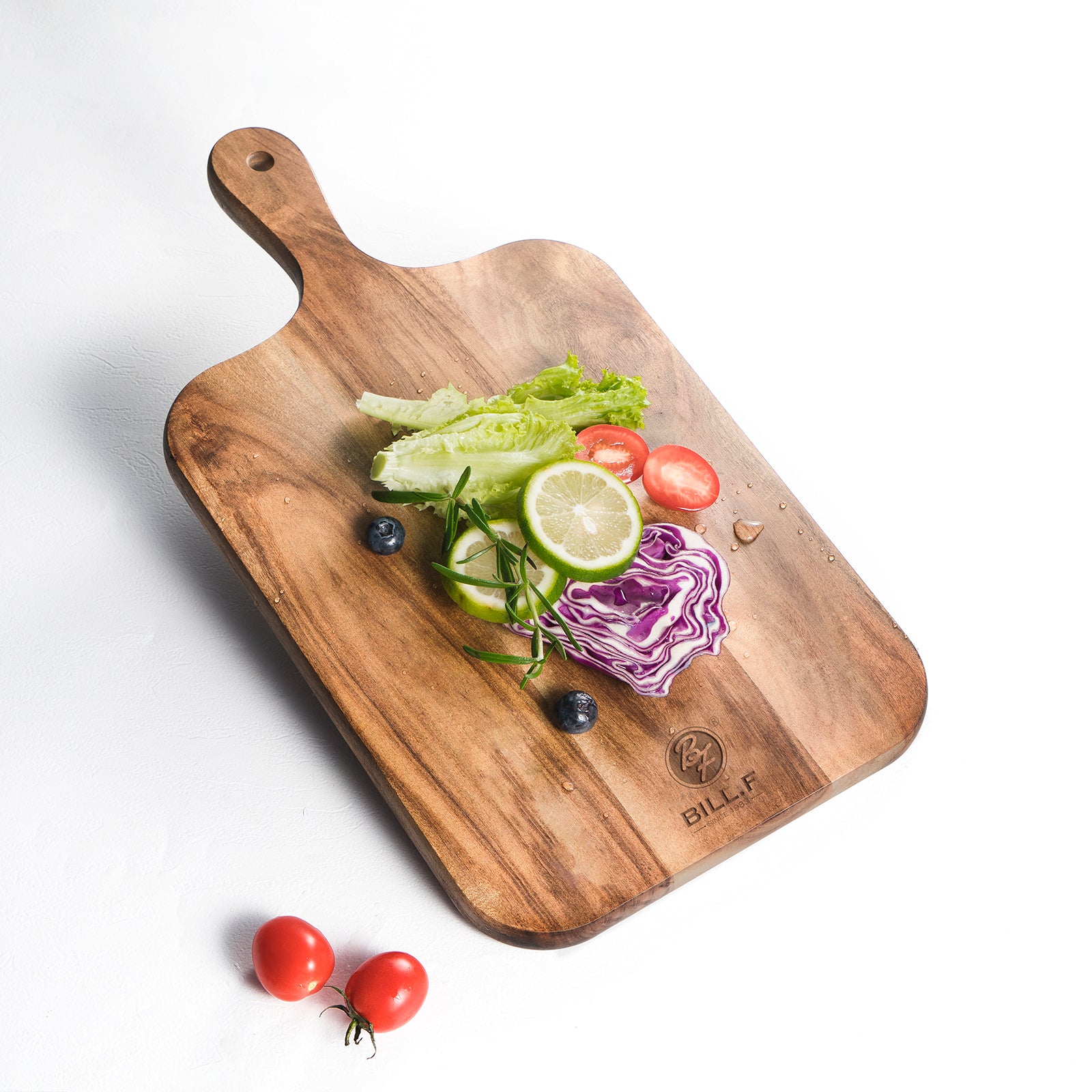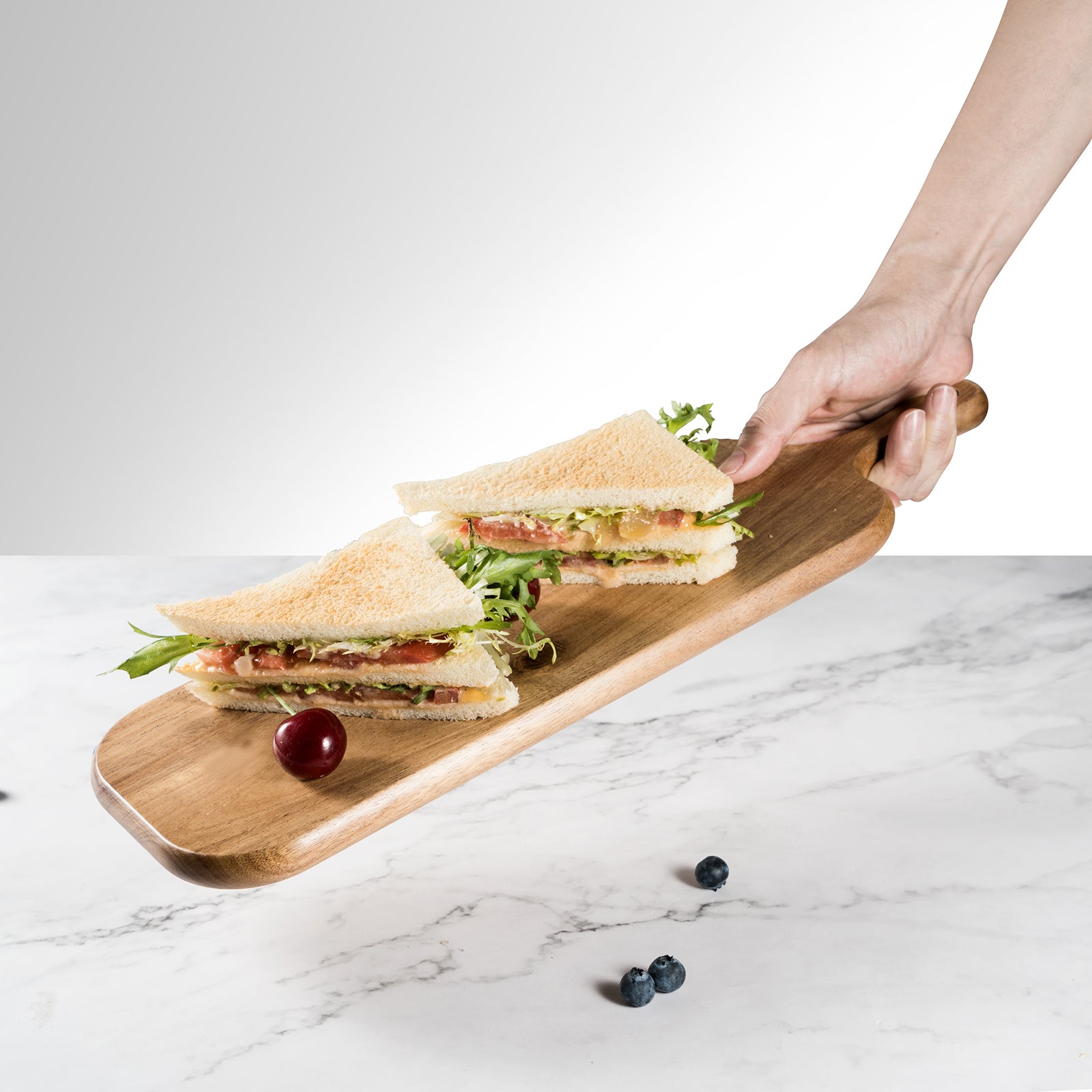 Cutting Board
Ergonomic Handle
This acacia cutting board comes with an ergonomic non-slip handle that makes it easy to hold the board while you're putting the chopped ingredients in the cooking pot. This ensures that your countertops remain clean and uncluttered.And meanwhile which can hang the board on the kitchen walls, and easy to carry when outside picnic or storage.
Cutting Board
Multipurpose Board
This serving board can be used to serve all varieties of foods such as breads, cheeses, meats, vegetables, fruits, and pizzas.The cutting board is a reversible design, one side can be used as a tray, and the other side can be used as a cutting board. You can also use this board as a fashionable serving tray ,cutting board, carving board, cheese board or butcher block,and even as a charcuterie board!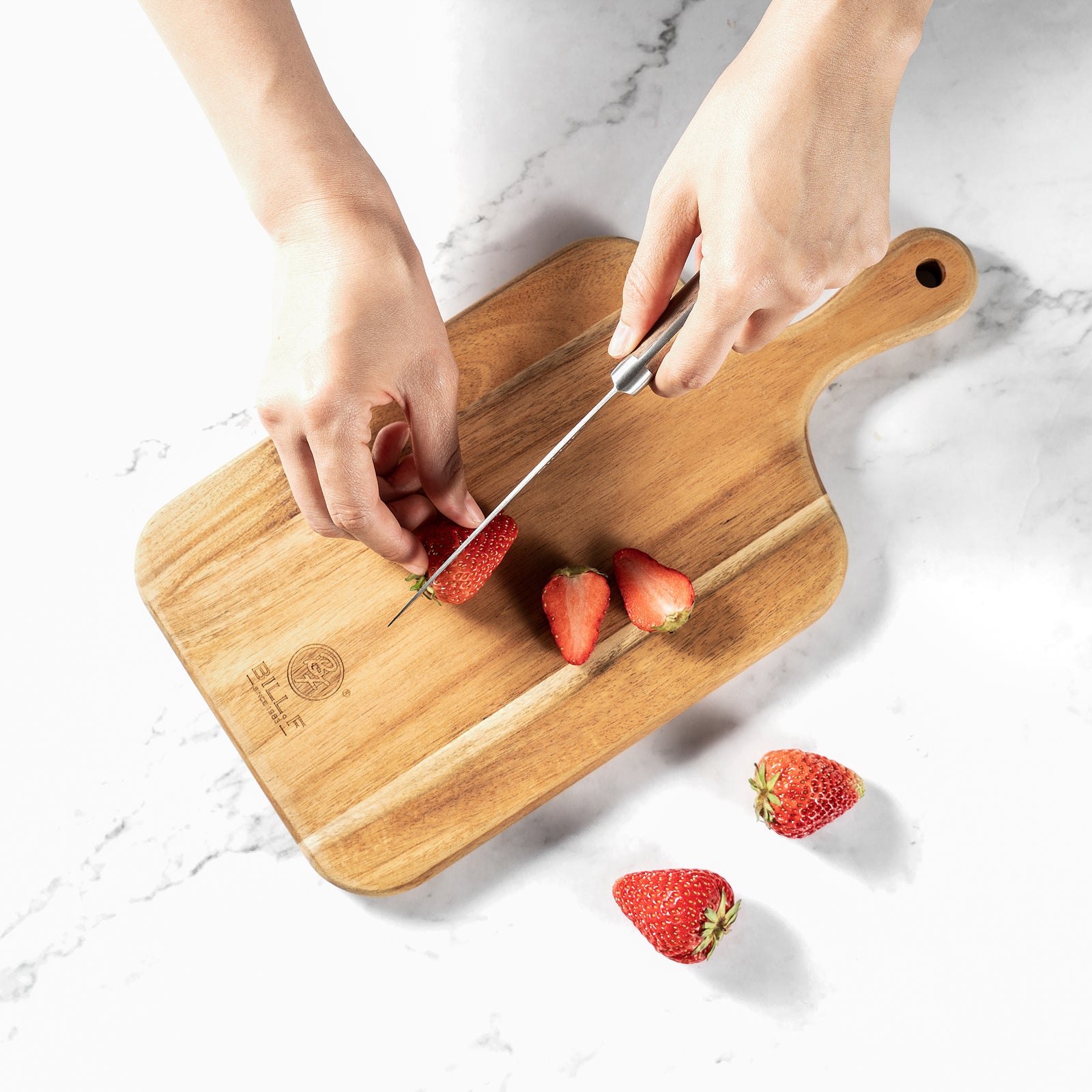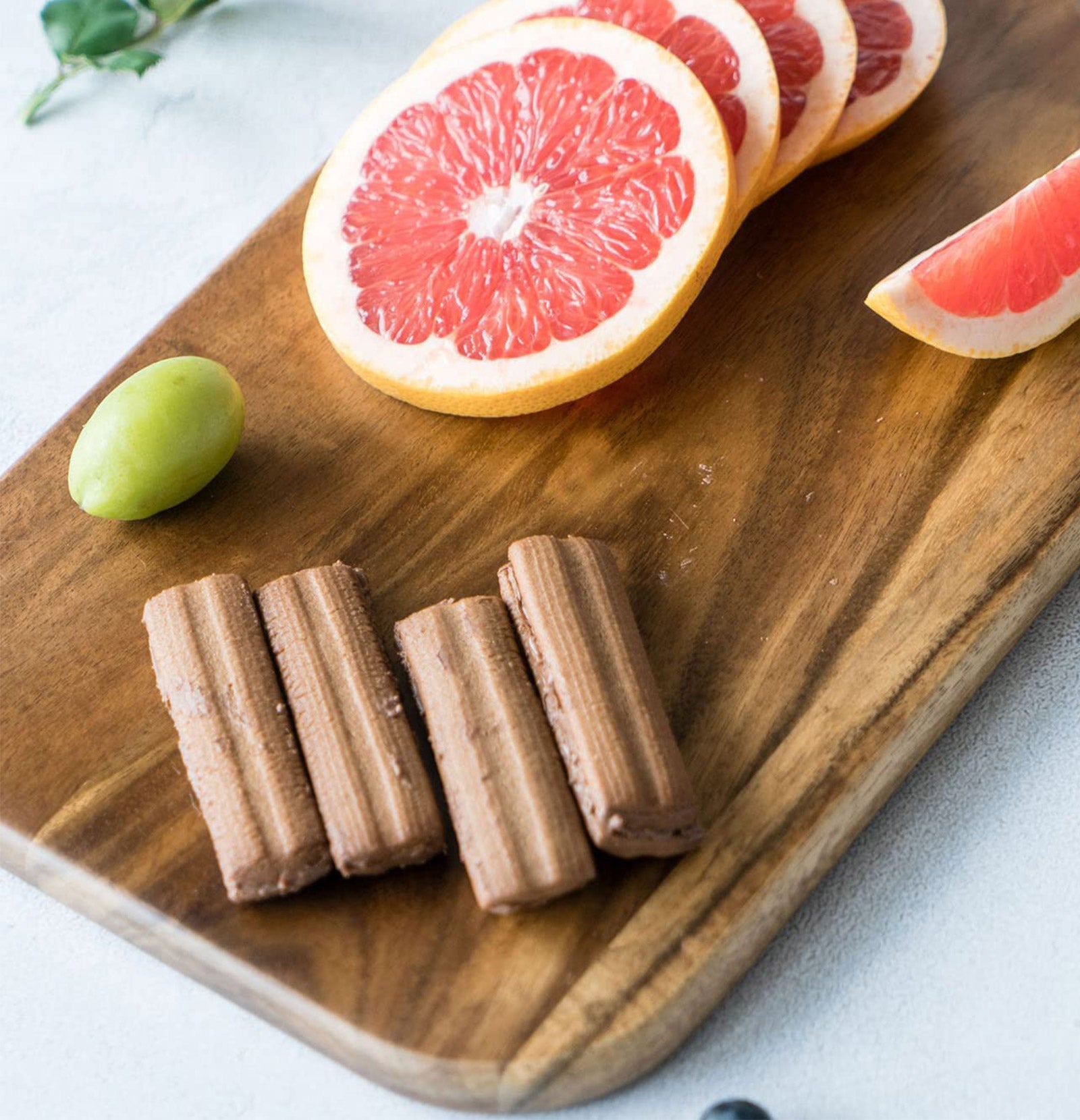 Cutting Board
Easy to Clean
This vegetable cutting board is very easy to clean with just some soap and water. We recommend that you do not soak it or use the dishwasher to clean it, as this may damage the natural wooden surface.
Solid cutting board
It is a review of S size. Even though it was S, it was quite large. When I measured it, the total length including the handle was about 35 cm.
I added scissors, a pen, and lipstick of a general size to the attached photo to get a sense of size. It's about 2 cm thick, so it's quite solid.
The S size can be used as a cutting board or as a plate. It was a fashionable cutting board that was slippery and felt good to the touch.
Great kitchen addition
Love this sturdy versatile cutting board!
Sturdy, Reliable
We've owned several cutting boards over the years, but this Bill.F Acacia Wood Cutting Board has to be one of the best. It's physically beautiful - the ornate Acacia wood grain makes this board appealing on our wall. It's large enough for serious cutting, whether vegetables, meat, bread or whatever else. The handle is long enough that we can pick up and move the board easily. One of my favorite features is that the wood surface, while very strong, is not going to damage the edges of our cutlery. Finally, the board is attractive enough to use at the table.
Plastic cutting boards have gained popularity over the past decade or two, but plastic can easily chip and leave tiny plastic particles in food, which we're learning more and more are bad for you and your family. A wooden board may pick up a few shallow gouges under an overaggressive knife, but won't leave invisible pieces in the food. The wood in this Bill.F Acacia Wood Cutting Board is known for its durability; I have no doubt our cutting board will last for generations with minimal care.
As a cutting board, a serving platter, or simply as a decorative element for your kitchen, the Bill.F Acacia Wood Cutting Board is a perfect choice. It would make a wonderful gift.
Beautiful cutting board!
This is an absolutely beautiful thick sturdy well made cutting board. Easy to clean. Very very nice. Will have this for years and years!! This would be an awesome wedding gift, housewarming gift, hostess gift, any occasion!! Very large, perfect for any cutting or chopping, and a great size for serving too. Love it!!!!!
Sturdy cutting board but condition the wood with Food Grade mineral oil
The cutting board that we purchase was shipped quickly as promised. My wife is happy with the cutting board. We have been using the board and find it to be durable and has nice looking wood grain patterns. *Note: be sure to also purchase Food Grade Mineral Oil to treat the wood. After use the wood board appears dried out and untreated. The oil conditions the wood, preventing it from cracking or warping and brings back the luster of the wood. We recommend using one side of the board for daily use dicing and slicing, and the other side only for meats and less damaging. This way one side will maintain a smoother surface for serving or detailed slicing while the former will be rougher for taking a beating.