6 Pcs Knife Set
Professional knife cover combination
Professional stainless steel kitchen knives can fulfill various kitchen cutting tasks. The set includes chef's knife 20 cm, bread knife 20 cm, slicing knife 20 cm, utility knife 11 cm, paring knife 9 cm and black walnut wooden block.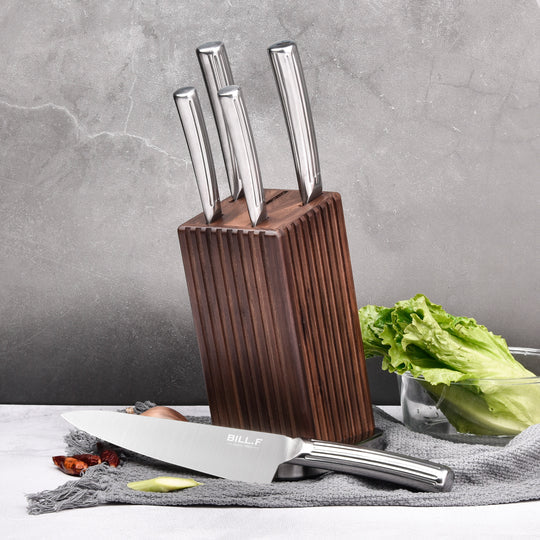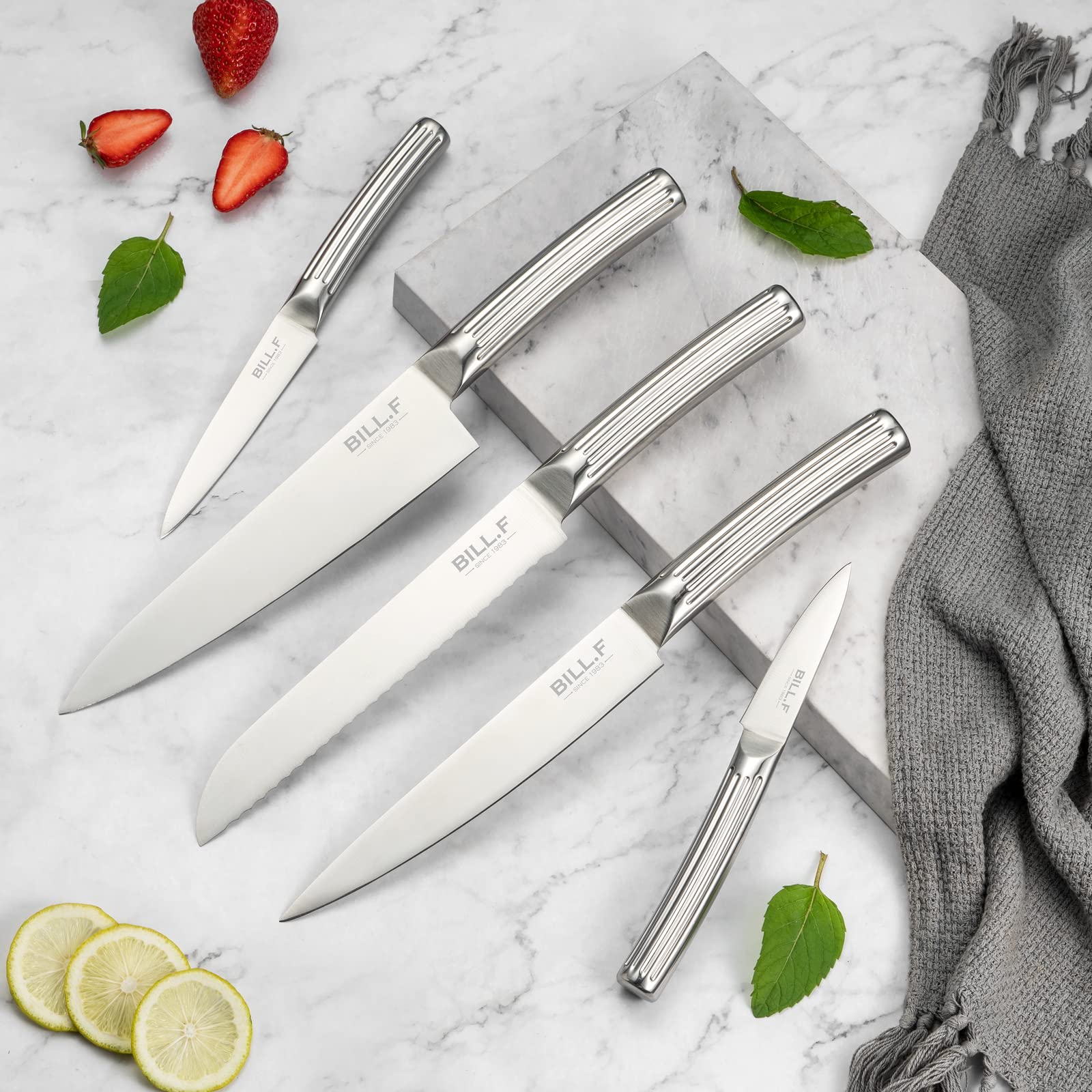 6 Pcs Knife Set
Premium Black Walnut Knife Set
The ergonomically designed handle ensures a comfortable grip and offers optimal mobility to cut a variety of foods with ease. It is made of natural black walnut with bright colors and beautiful clear grain, not easily deformed or broken, and fits perfectly in the hand, making cutting easier and safer.
6 Pcs Knife Set
High-Quality Knives For Every Occasion
The premium Bill.F knife block set offers five premium kitchen knives in an impressive black walnut knife block - an exemplary equipment for every kitchen. Whether for meat, vegetables, fruit or bread, the right knife with the ideal blade length and shape is always at hand with this set.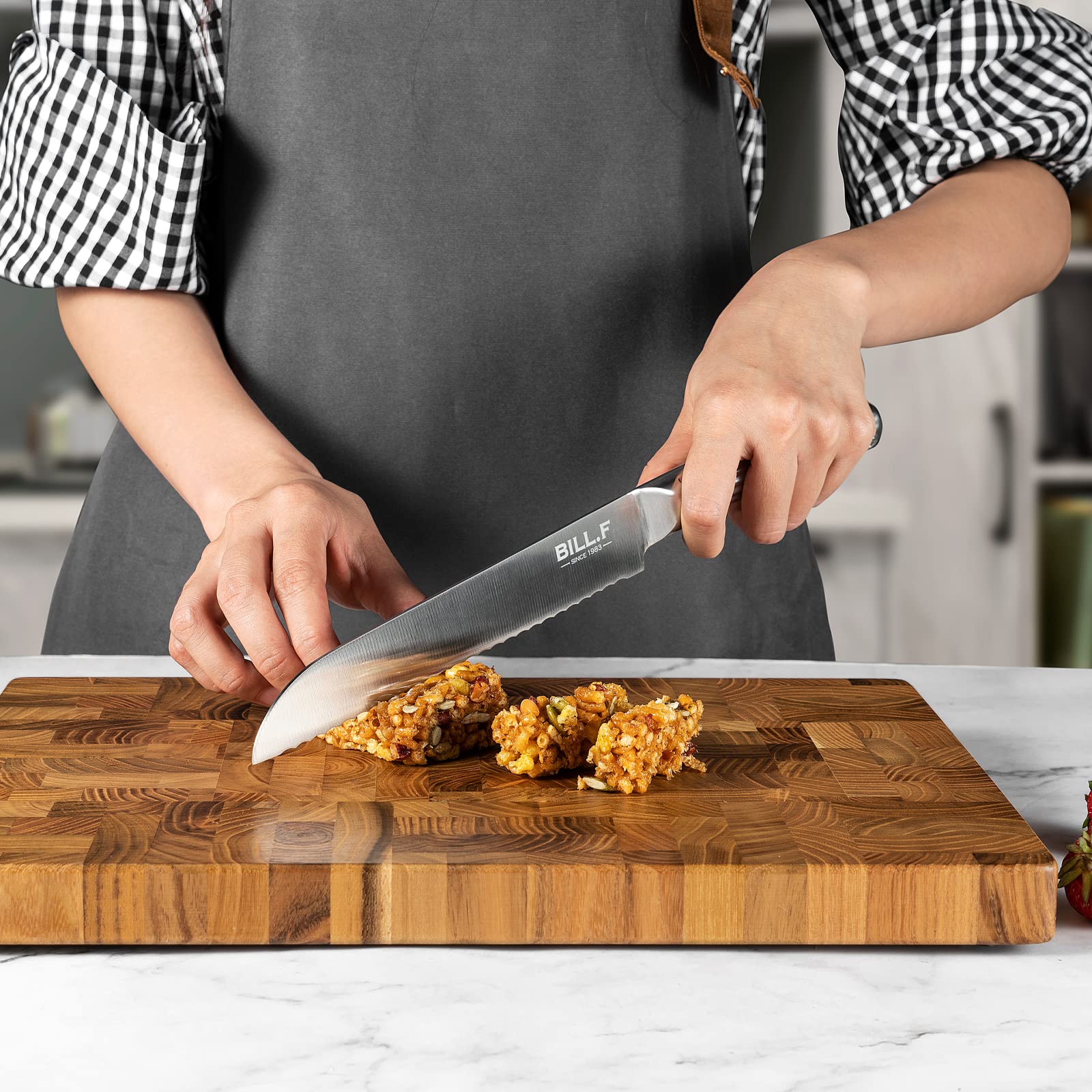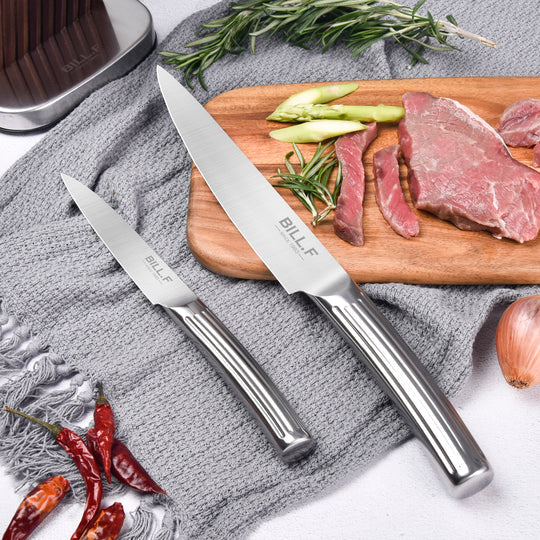 6 Pcs Knife Set
Ice Force Technology
The knife blade is subjected to a temperature shock of -120℃ after heat treatment for extra strength and higher corrosion resistance. Stamped from special stainless steel, robust handles in three-rivet design, durable, corrosion-resistant, hand cleaning recommended.
The highest sharpness!
I used to use only cheap knives, It took a long time to cut meat and vegetables. But this knife is very sharp, so you can cut it just by pulling it immediately.
I am very happy that my stress has been reduced! You can enjoy cooking!
A set of 5 stylish kitchen knives!
The sharpness is not very good, but it cuts normally.The box is well designed and may be a good choice as a blessing gift for starting one's life.
Fashionable
Kitchens have become very fashionable. The blade is not bad, if the ordinary housewife should be very satisfied. The weight feels very good.
Excellent quality and modern knife block set
I absolutely love this knife block set with knives as it is beautifully crafted the solid block and the knives extremely sharp, fantastic quality and style. I am so pleased that I have finally invested in a decent knife set for my kitchen it looks very modern and stylish compliments any work surface.
Super quick, efficient delivery service too.