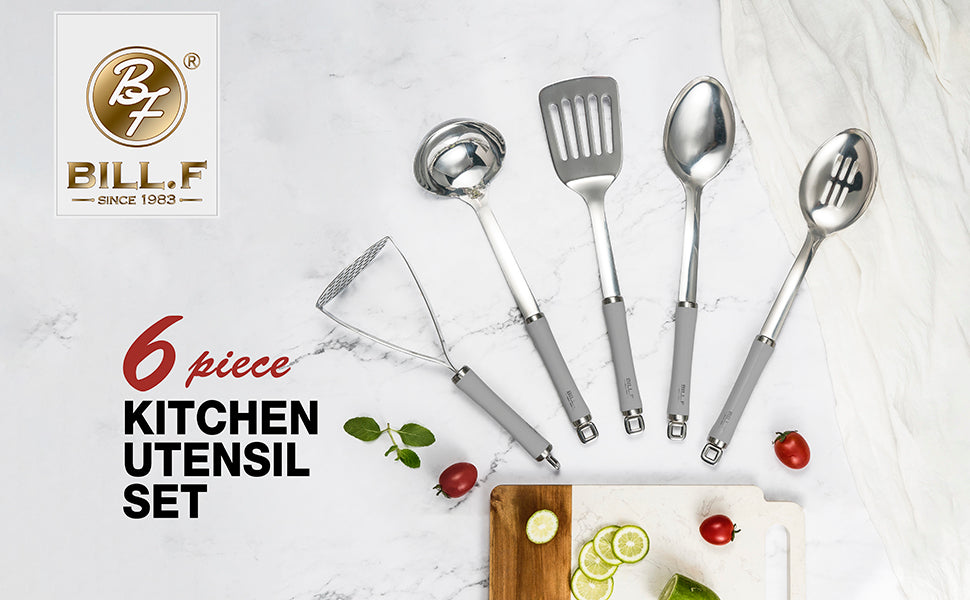 BILL.F kitchen utensil set-5 pieces, durable, professional-grade tools, using the highest quality materials to ensure that this tableware can last for many years, they can be used in home kitchens, restaurants, food stores or canteens.
The elegant modern shape, rugged material, and overall structure all are perfect. The Gadget of Kitchen Utensil Set can bear heavier weight than normal products and is not easy to bend.

The perfect gift: The ideal housewarming or wedding gift. Surprise family or friends and order tableware for them.

What are you hesitating about? This's your choice.
Everything You Need Is Here:
Our goal is to offer you a complete solution that will cover all your cooking and serving needs, that's why we have created this comprehensive 6-in-1 kitchen utensils set that includes:
1 x Slotted Spoon for serving veggies & fried food
1 x Soup Ladle for serving delicious soups and stews
1 x Drainer for removing food from broths or water
1 x Spatula/Turner for flipping and serving patties
1 x Solid Serving Spoon for multiple cooking tasks
And the best part? You will not have to look for another kitchen utensils set for a long time, since our premium kitchen tools are designed to pass the test of time!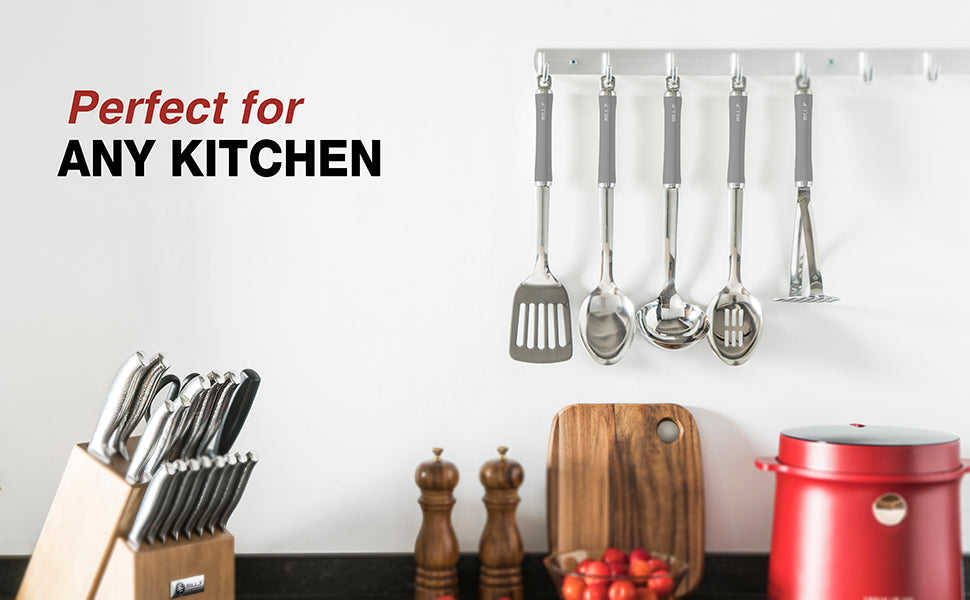 Saves Counter Space--Excellent Quality
These are attractive, sturdy utensils. Their size are perfect for making large family meals. The holder is convenient and does not take up a lot of counter space. The utensils are solid and of excellent quality. They are also easy to clean. I wash them by hand and dry with a dish towel.
Unique and good looking sturdy set.
I really like the look and quality of this hand set.
It is well made and sturdy utensils, nice size handle grips that feel good in my hand.
Hand wash.
Take note that this set is almost 16 1/2 tall and for me it will not fit under my kitchen cabinets , this is not a issue for me because of were I will be using it but may be for you.
Not dishwasher safe
This is really attractive set of kitchen utensils but in hindsight is not the most practical. First of all this is not dishwasher safe so you have to wash them by hand with warm soapy water. Not a huge deal but when you're doing a lot of dishes it does get a little annoying to have to separate these out. They do feel very solid and sturdy in the hand but of course you have to be careful with the types of pants you use these in because they can scratch and ruin the finishes.
Worth the money.
Perfect fit for cast iron or non stick. Sturdy pots or pans. I threw all my other Cooking utensils away after getting these.
Exceeded my expectations!
This is by far the best and stylish stainless steel utensils set ever.
Do not hesitate...place and order.