Specifications
Name: Paper Holders
Material: Solid Teak Wood
Measures: 6.7"x12.5"
Applicable Paper Towel: Roll Paper
Usage: Kitchen, Toilet, Living Room, etc.
Feature
High level decoratively holds paper towel rolls of sizes, including jumbo-sized
Sidebar to easily rip the paper towels
Weighted base keeps it steadily in place
Holds one roll of paper towels for easy access anywhere on your countertop
Scrub and air dry with mild soapy water
Package Includes:
1 x Roll Paper Rack  (Paper is not included)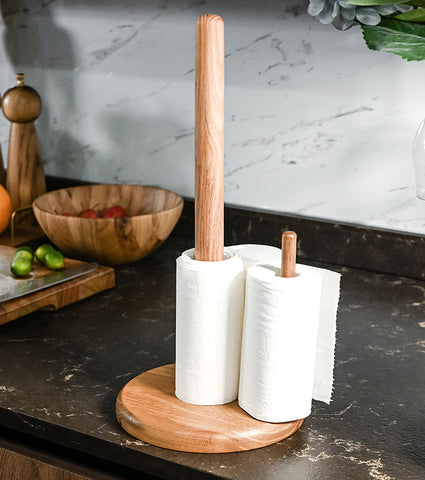 I had been having an issue with my toilet paper roll storage. Since changing to jumbo rolls I could no longer easily fit them into our holder. Trying to pull them out hurt our fingers and often messed up the toilet paper. Now I simply pull them off the storage rack and I'm good to go. I was nervous that my cats would make a toy out of the tissue but so far so good.
If you are looking for both quality and visual appeal then add this to your cart and order this right now. I bought this because it was time to replace the one I've had for a few years and I am glad I went with this product. I couldn't be happier! I don't even understand why others would give this anything less than 5 stars. I had no problem with the shipping or packaging. The quality is excellent and the design is simply beautiful. The product serves its purpose well and arrived without damage. I would highly recommend this product and the vendor.
Nice simple paper towel holder. I like the square base. It makes for a stable holder.
Really nice
Super good quality looks nice
Beautiful craftsmanship
Beautiful, hefty wood, that doesn't tip over!