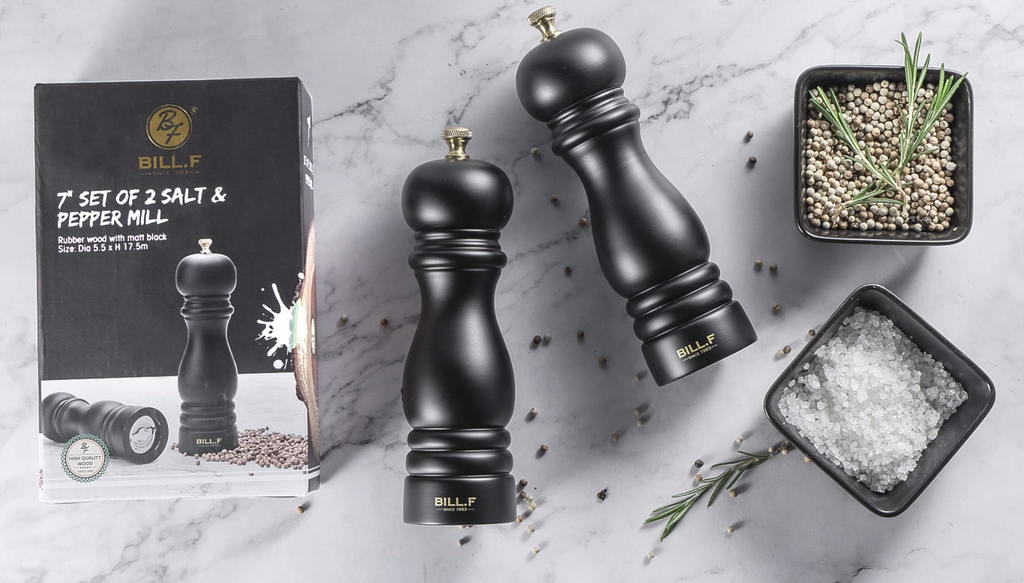 Made of natural matt rubberwood, the pepper mill can be used for pepper, sea salt, black pepper and more seasonings for camping, picnics, barbecue nights and daily cooking.
With the adjustable grinding setting, you can turn the stainless steel nut on top to adjust from fine to coarse. (CLOCKWISE for coarseness, ANTICLOCKWISE for fineness)
Ceramic cores are more durable than stainless steel cores and will not rust! Screw the top cap to keep away from moisture, and protect your spice in the grinder fresh for a long time.
Tips: Hand wash with a damp cloth, do not submerge.
Professional Salt and Pepper Shaker
Here are the top 3 reasons why people use manual salt and pepper mills today
Fresh pepper and salt have plenty of health benefits, unlike the alternative ready-made salt and sodium shakers.

Keep fresh to your salt and pepper

It can add a bit of class and style to your restaurant or kitchen and dining room area.
These small and elegant salt and pepper shakers with the words "S" and "P" on the top nut can help you distinguish the sea salt or pepper easily, no worry for confusion.
Fully separable designed, simply take off the top of the salt shaker and pepper mill for a fast refill and clean. No tacky electrical grinder here means no batteries required, easy to grind and use. 
Made of Rubber Wood material, strong, tough, corrosion resistance and high strength
Top quality Ceramic Rotor offers long-time durability and can grind against the toughest peppercorns, Himalayan salt, sea salt or other dry spices.
What will you get?
7 inch pepper grinder

7 inch sea salt grinder

 
Video from Dan
Obsessed!
These are BEAUTIFUL!!!! Seriously.They are easy to fill and look amazing on my counter.
Beautiful wood
These are beautifully mad traditional salt and pepper grinders. The wood is smooth and well-finished. Easy to fill at the top, the ceramic grinder will deliver course to fine grains depending on how tight you screw the top., S & P on top of screw makes for easy identification These take me back to my childhood before everything was made of plastic. They now have pride of place in the centre of my dining room table.
A great quality product, if a little pricey 22.99 at the time of this review. Highly recommend for decent freshly ground pepper.
Nice we love it, works well
Nice we love it, works well, practical sign on the top with "S" and "P" letters
Just what we were looking for!
Replaced a set we had. It is better.
Grind Salt-Pepper Grinder Set of 2, Stainless Steel Refillable Salt & Peppercorn Shakers 7" Tall